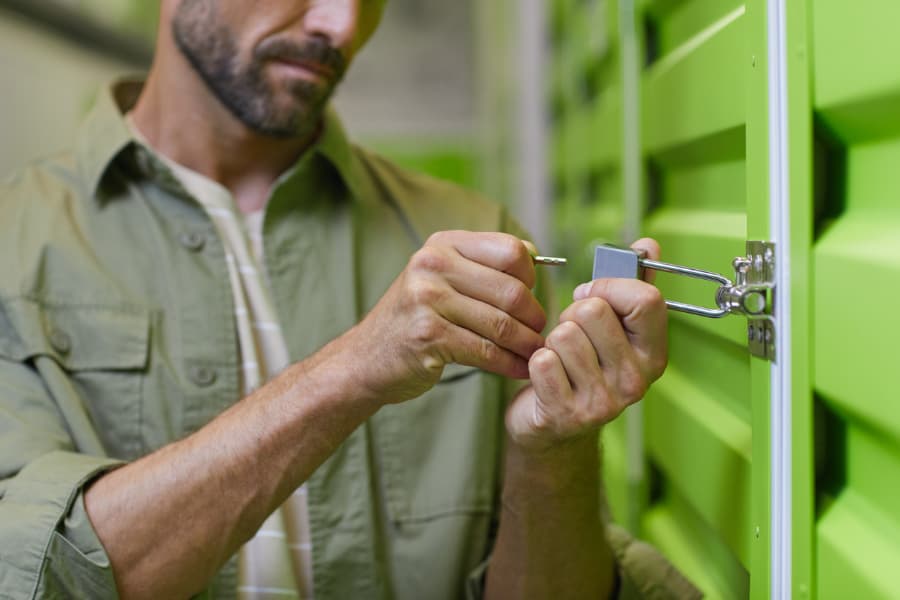 Signs of a Secure Storage Facility
May 05, 2022
By

cliftonrt46selfstorage
When you place your belongings and equipment in the hands of a self-storage facility, you're also trusting the facility has the right security measures in place. But what are some of the safety features you should identify before it's time to rent a unit? At Clifton Rt. 46 Self Storage, protection is our top priority. Here, we'll discuss the formula for a secure self-storage facility.
A Perimeter with Restricted Access
Driving up to your storage unit should be easy enough for you, but definitely more challenging for a burglar. Many storage facilities are gated so that intruders can't just walk up to a storage unit, break it open, and walk out with someone else's stuff. Here are some things to keep in mind:
Durability: The gate and fencing should be tough enough to deter thieves, creating a secure perimeter around the area. During a site tour, make sure to keep an eye out for any weaknesses or damaged areas.
Secure entry: Many facilities secure the gate with a digital passcode. The more complex the code, the less likely an intruder will be able to find a way inside.
Password security: Does the facility have one passcode for everyone or does each tenant have their own? If every tenant is assigned a unique code, it makes it much harder for an intruder to figure out how to open the gate.
Modern Surveillance Technology
One of the primary features of a self-storage facility is digital video surveillance monitoring. Security systems can catch unauthorized activity and may even prove helpful in identifying an intruder for the authorities. And if this security runs 24 hours a day and 365 days per year – not just during business hours – you can enjoy greater peace of mind.
Bright Property Lighting
It may seem like a basic visibility concept, but you should also make sure your facility is well lit. This correlates to surveillance and personal safety. A bright, well-lit property not only makes it easier for you to locate your storage unit and add to it, but it also helps you feel safer doing so. Additionally, it makes it easier for security systems to pick up on any activity.
Theft-Protected Storage Units
Storage units are durably crafted to help keep your belongings safe and sound, but the lock you use is crucial. While some storage facilities provide their tenants with tough, theft-resistant locks, others require you to bring your own. If this is the case, make sure to do your research before purchasing one from your local hardware store. Some of the best locks for storage units have telltale security features, including:
Design: The shackle should properly fit the latch or hasp of the storage door.
Material: Your lock should be made of a durable metal that guards against rust and other damage. Many quality locks are made from materials like stainless steel and boron carbide.
Locking mechanism: Keyed and combination locks come in varying levels of security. If you choose a keyed lock, the more pins it has, the harder it will be for a thief to pick.
While a basic padlock may be enough to protect your belongings, smart-key technology can enhance the level of protection. A variety of advanced models are on the market today.
What Happens if There Is a Break-In?
Unfortunately, theft can occur even with the most advanced measures in place. If you are ever a victim of a storage unit robbery, your insurance should be able to cover the contents of your unit. Self-storage insurance is a policy that specifically covers what's inside the unit. At Clifton Rt. 46 Self Storage, we recommend that tenants review their policy to ensure their belongings qualify for coverage.
Also, it's ideal for you to keep a detailed inventory and clearly label your storage boxes. Should something be stolen or damaged during a break-in, your inventory list will make it easier for you to pinpoint the affected items and make sure they can be replaced.
Rent a Secure Self-Storage Unit Today
At Clifton Rt. 46 Self Storage, we take every precaution necessary to help ensure our tenants' belongings are protected from theft. We also have several policies in place to comply with local and state regulations in the Clifton, New Jersey, area. For more information about our secure self-storage facility or to rent a unit, contact us today.